Latest additions
Institute of Musical Research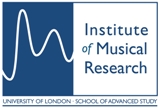 The IMR offers a unique meeting point for researchers and postgraduate students across the UK and acts as a hub for collaborative work on a national and international scale. The IMR works closely with other School of Advanced Study Institutes to enhance cross-disciplinary understanding, and brings the benefits of creative and intellectual exchange to researchers across the music sector through research training, performance workshops, collaborative research, day schools, and conferences.
SAS-SPACE (1940)

Institute of Musical Research (1940)
Number of items at this level: 2.
Article
Ortigue, Joseph d' (1858) Untitled. Journal des débats .
Conference or Workshop Item
Irving, John (2010) Pitfalls and Pleasures: recording on a 1764 Harpsichord. In: Dean's Seminar, 24 March 2010, School of Advanced Study. (Unpublished)
This list was generated on Thu Oct 19 14:07:11 2017 BST.